Fish Tea Soup for the Body and Soul
Soup is my fav comfort food and it's not a seasonal thing for me. I can drink soup throughout the year but I truly appreciate a warm bowl of soup on chilly autumn evenings along with my sourdough focaccia bread.
I like to make a large amount usually on a Saturday afternoon, and then freeze any leftovers in portion-size packages for the week.
My all-time favorite soup is Jamaican Fish Tea Soup.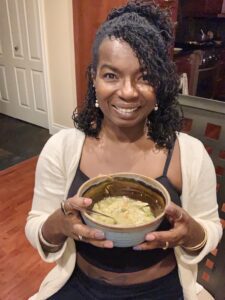 Curious to know why it's called Fish Tea Soup as opposed to Fish Soup since tea is not an ingredient?
According to my sources, it is because the soup broth is thinner and lighter in consistency than other Jamaican soups and it is also thought to be healing for colds and the flu.  Much like chicken soup, fish tea soup is good for the soul.
These are the Essential ingredients
Onion
3-4 Cloves Garlic
3 Springs Thyme
1 -2 Scotch Bonnet Peppers to taste*
Fish – I prefer King Fish – it is lean on fat, rich in flavour, protein and Omega-3, it also has fewer bones
This soup can be made rich or very light depending on how many veggies you add. Typically adding pumpkin or squash, green banana, and or cassava will make a thicker richer broth. Below are the ingredients for my last batch of Fish Tea Soup:


Ingredients
Olive oil
2 Spring Onions- sliced
1 Onion- chopped
1-2 Leeks- sliced
1 Chayote peeled and cubed
1lb Yam peeled and cubed
1 Tbs Fennel seed
3-4 Cloves Garlic
Any type of fish – I prefer King Fish
3 Springs Thyme
Teaspoon tumeric
Salt & Pepper to taste
1 Scotch Bonnet Pepper, remove seeds
Pimento Seeds
Prep time 20 minutes
Preparation
In a large pot sauté onions, garlic, fennel seeds in 3 Tbs of Olive Oil until onions are transparent
Add water 4-5 cups and bring to boil
Add yam, leeks, cho cho (Chayote), pimento, scotch bonnet, tumeric powder
Cover and leave to cook until Yam is tender approx 15 mins
Add fish, thyme and a splash of lime if you like, let simmer another 10-15 mins
Season to taste
Tips
*Scotch Bonnet peppers are incredibly hot but also very flavorful. I like to slice them thinly so that the flavor can infuse throughout the soup. Be careful to discard the seeds as they can be lethally hot -you have been warned!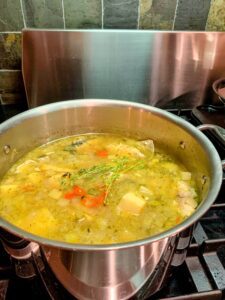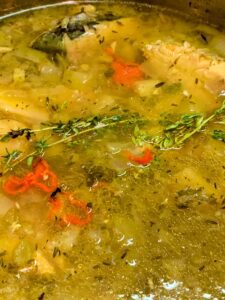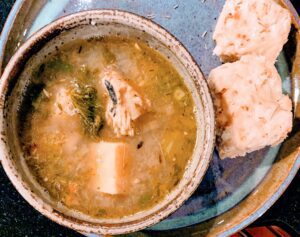 eat well and stay mindfully well friends!